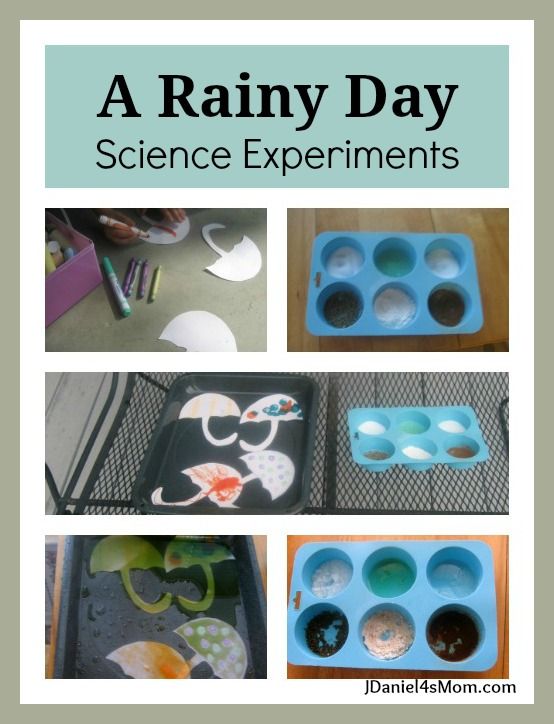 A rainy day is perfect for science experimentsand reading books about rain. We recently read a number of rainy day books and a number of rainy day. (We have had over ten days of rain.)  You will find some of the other books with a rain theme that we read shared on the Read.Explore.Learn. Facebook page and my Google+ page. JDaniel's favorite rainy day book we read is called Who Likes Rain?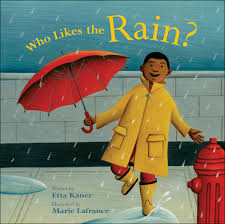 We like rain at my house. JDaniel loves to jump in puddles and dance in the rain. I love to dance right along with him. We have had more than share lately as I mentioned.  With all that rain came tons of questions about rain.
Rainy Day Questions like:
What do raindrops look like before they land on me?
Where do puddles come from?
Why do plants need rain?
How do snails get their shells?
Why does the air smell different after the rain?
These questions and several more answered in this wonderful flap book for early readers. I learned a lot from reading this book with JDaniel and he understand a lot more about rain. We are going to have to look for other books in this series. The text is easy to understand and the questions are ones that my son loved knowing the answers to.
Science Experiments We Did to Explore This Book
Art Related Science Experiment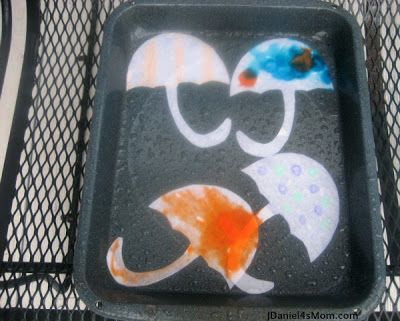 JDaniel and I decorated construction paper umbrella with several different kinds of  drawing tools. Chalk, magic markers, crayons and a bingo marker were each used to decorate an umbrella.
The umbrellas were set in a broiler pan and then placed outside on a bench on our deck to wait for the rain. At first there was only a small shower. I headed out to take pictures of our results and them left them outside to dry.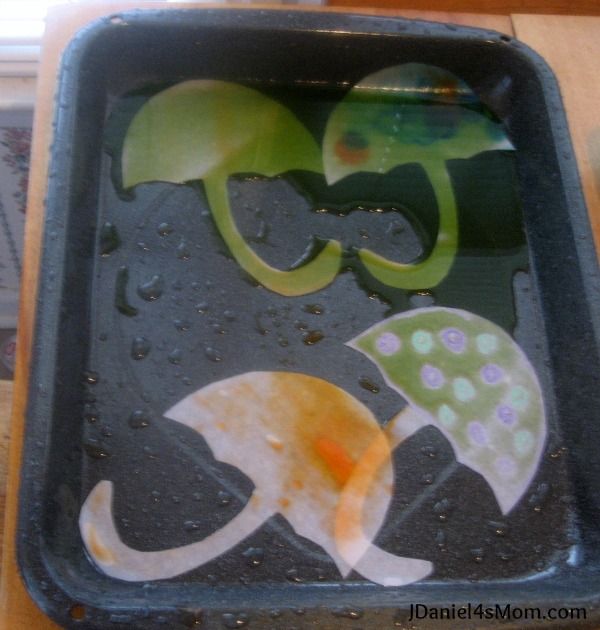 Then it rained again. This time is was a downpour. The artwork drastically changed after the downpour. The designs on all the umbrellas smeared and in some cases ran off. I need to disclose that I didn't leave them out in the downpour for long after only a couple of minutes I scrambled outside to bring them in.
It was interesting to see what effect each type of rain had on the artwork.
Baking Ingredient Science Experiment 

This experiment was done during a rainy day using the two storms on that day as the art related science experiment. Several different baking ingredients from our pantry were placed into a silicone muffin tin.
We placed them on the same bench on the deck as the art project to save us from running all over the deck.
After the short shower, most of the ingredients looked a little damp and the colored sugar had started to run. The heavy rain caused a physical change to most of the ingredients. The Italian seasoning got puffed up a bit. The salt had absorbed the water. The cinnamon changed colors. The flour had craters in it from the rain drops. The sugar had gotten a little syrupy. The salt was a little puffier and didn't display much water. The color sugar had a puddle of green in its cup.
JDaniel tasted them each and said the sugar tasted sweeter as did the colored sugar. The salt was still salty. He wasn't willing to try the Italian season or the flour.
This experiment was wonderful for talking about physical and chemical changes that can happen to materials and ingredients when they come in contact with water.
While we are ready for some days of sunshine, some science experiments on a rainy day were fun.
How did you explore books this week? If you have a post you would like to share, please link it up below. Once you have added your post, please visit at least three others.
Disclaimer: This post contains affiliate links.