Ten Red Apples
 is such a popular fall book I could not find any copies available at our public library. No wonder it was selected by the Virtual Book Club as the book of the week. Wait! You may be thinking what is the Virtual Book Club? It is a weekly book club created to share wonderful children's books and activities based on them. While many of the activities are designed to do with younger children, there will always be a few that big kids can do.
Today I have a fun science experiment that is based on the book Ten Red Apples
. It could totally be done with younger and older children. I will walk you through how to do the apple experiment with both age groups.
Apple Experiment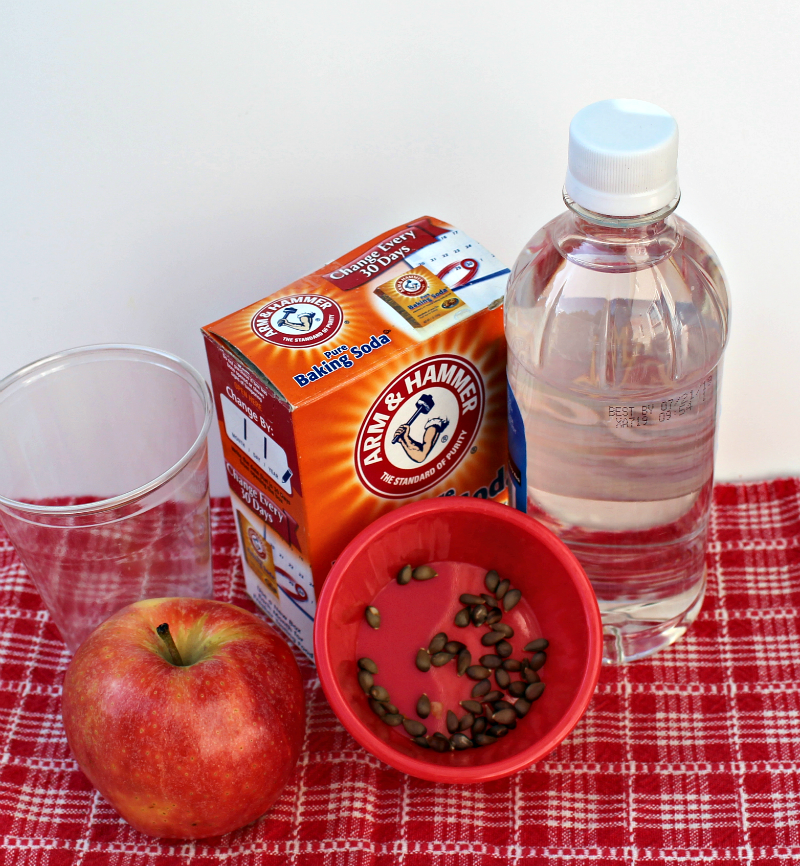 Supplies
White Vinegar
Plastic Cup
10 Apple Seeds from Red Apples per Child (They don't have to be from red apples.)
1/4 tsp. of Baking Soda
Measuring spoons
Safety glasses or goggles (Optional)
Procedure for Young Kids
The first thing you will need to do is decide if you want your children to wear safety glasses. (The mixture you create will bubble up.)
You will also need to decide if your children will need to do the experiment or watch you do it.
Next, you to fill the cup about 1/3 of the way up with vinegar or watch you pour it. You can add more, but the more vinegar you have in the cup the more likely it is to overflow.
Next, you will need to count out ten apple seeds and place them in the cup. You could use fewer seeds, but ten seeds will let them see a lot of jumping. 
Finally, you will add 1/4 of a tsp. of baking soda. Adding the baking soda will start the chemical reaction and your seeds will start jumping.
Procedure of Older Children

Older children will follow the same steps. You can have them do all of them on their own. Yes, they can even do the measurements.
Scientifically What is Happening
This is what Makes the Bubbles
I found this explanation in a chemical changes handbook.
The baking soda (sodium bicarbonate) is a base while the vinegar (acetic acid) is an acid. When they react together they form carbonic acid which is very unstable, it instantly breaks apart into water and carbon dioxide, which creates all the fizzing bubbles as it escapes the solution.
After the Bubbles Form
Bubbles will gather under the apple seeds until there's enough fizz to raise the seeds to the surface. When the bubbles pop it causes the apple seeds to fall.
Our Findings
We found that some of our seeds didn't fall right away. Some of the seeds floated up to the surface, fell, and rose again.
More Fun Science Experiments
Apple Weight Loss Activity with Printable
Apple Taste Test with Printable
Apple Themed Activities for the Other Virtual Book Club Members