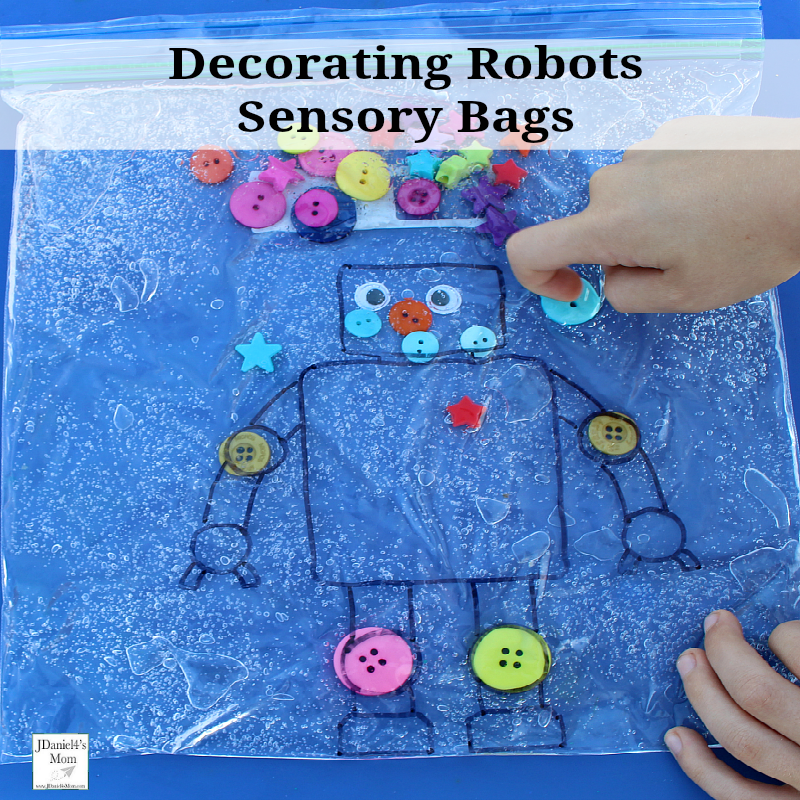 These sensory bags feature robot outlines. Your children will have fun moving the objects inside the sensory bag to add details to the robots. This activity part of a series called 31 Days of ABC. These sensory bags were designed to be used on R Day! While many of the activities in this series are for younger children. I found my 9-year-old decorating the robot several times this week.
Putting the Sensory Bags Together
These sensory bags are so easy to make. You really only need seven supplies to put them together.
Links below are affiliate links.
Supplies
Print Out of a Robot Outline
Clear Hair Gel
Permanent Marker
Gallon Size Zipper Bags
Two Wiggly Eyes
Directions
You will need to place the robot print out inside the plastic bag. Then you will trace the robot onto the bag with a permanent marker.
Next, you will fill the bag with the contents of a bottle of hair gel. The hair gel should be about 1/4 of an inch thick in the bag.
Finally, you will place the eyes, buttons, and beads into the bag. (It is okay to keep them at the top to start with. ) Then seal the bag.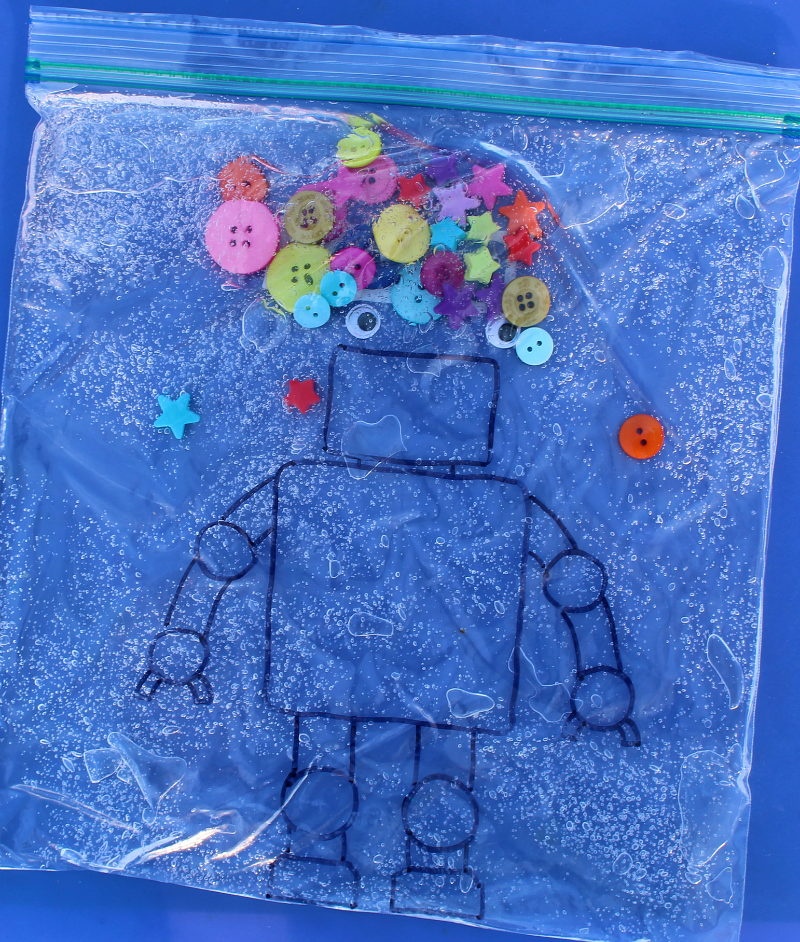 Exploring the Sensory Bags
There are several ways your children can explore the bag. Here are a few we thought of: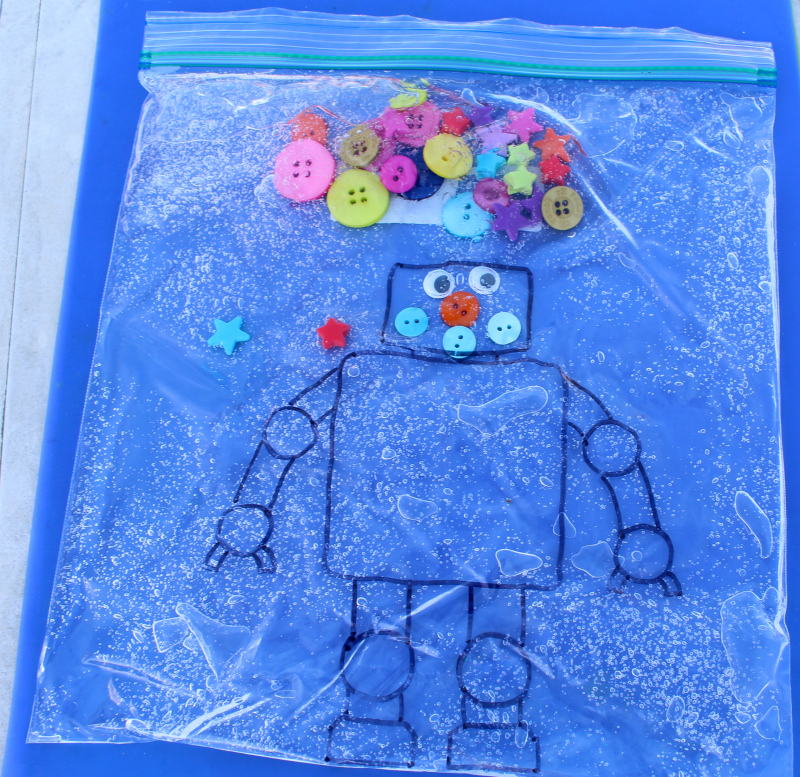 Give the robot a face and button joints

Place buttons and beads on its chest
Cover its body with buttons and beads
Move stars onto the robot's chest on a bead at a time. Count the stars when you place them on the robot.
Place the buttons symmetrically on the robot
If you like this sensory activity, here are some more you will like.
Pumpkin Counting Activities and Sensory Bottle
Let's Explore Shapes Sensory Bowl and Cards
31 DAYS OF ABC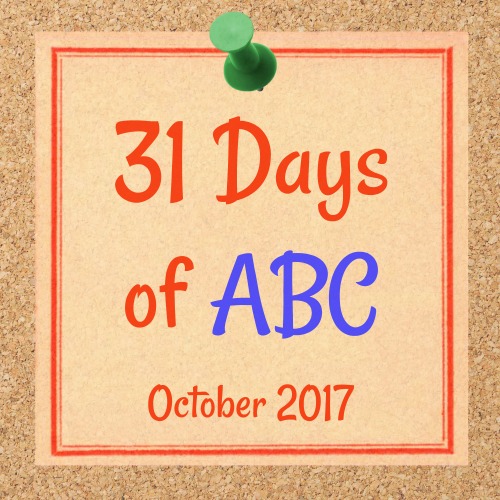 TEACHING THE ABCS – OCTOBER 1
All Done Monkey: Early Literacy – Getting Started Teaching the Alphabet
A – OCTOBER 2
Creative World of Varya: A Is for Aromatherapy for Kids
B – OCTOBER 3
Hispanic Mama: B Is For Bilingual Baby Books
C – OCTOBER 4
Witty Hoots: C Is for Cool Fingerprint Castle Keyrings Tutorial
D – OCTOBER 5
Teach Me Mommy: D Is for Dinosaurs DIY Sensory Bin
E – OCTOBER 6
E Is for Environmental Print to Develop Literacy
F – OCTOBER 7
Look! We're Learning! F Is for Printable Farm Paper Bag Puppets

G – OCTOBER 8
H – OCTOBER 9
All Done Monkey: H Is for Hello/Hola
I – OCTOBER 10
Jeddah Mom: I Is for Ice Cream Craft and Sorting Activity
J – OCTOBER 11
All Done Monkey: J is for Jirafa (Giraffe) – Spanish Coloring Page
K – OCTOBER 12
Pennies of Time: K Is for Kindness
L – OCTOBER 13
Schooling Active Monkeys: L Is for Lion Craft
M – OCTOBER 14
Sugar, Spice & Glitter: M is for Madeline
N – OCTOBER 15
All Done Monkey: N Is for Nature Crafts
O – OCTOBER 16
Kitchen Counter Chronicles: O Is for Owl Bookmark Printable
P – OCTOBER 17
Q – OCTOBER 18
Discovering the World Through My Son's Eyes: Q Is for Quito
R – OCTOBER 19
S – OCTOBER 20
Discovering the World Through My Son's Eyes: S Is for Spanish
T – OCTOBER 21
Sand In My Toes: T Is for Truck
U – OCTOBER 22
The Educators' Spin On it: U Is for Unicorn
V – OCTOBER 23
W – OCTOBER 24
My Story Time Corner: W Is for Wheels on the Bus
X – OCTOBER 25
Y – OCTOBER 26
Teach Me Mommy: Y Is for Yarn Letters
Z – OCTOBER 27
Bambini Travel: Z Is for Zoo Animals